FREE SHIPPING TO SPAINISH PENINSULA A BALEARS ISLANDS

WE SERVE THE CUT DIRECTLY TO YOUR TABLE

IBERIAN PIGS RAISED IN OUR PASTURES

THE BEST ACORN-FED IBERIAN HAM
ORO VIEJO´s family business was born around the mid-twentieth century, and it is still alive over three generations. In the 1950s, our grandparent Fernando Ramos González made his first steps slaughtering Iberian pigs. That´s how all it began. With the help of mules and donkeys, he used to transport them and sell pork products from his own slaughters to villages from the natural environment of the Northern part of Huelva.
This is how the history of what is today ORO VIEJO starts. Humility, simplicity, quality, handicrafts, direct customer contact. Our grandfather, Fernando Ramos, used to go from village to village offering Iberian pig's culinary delicacies from the meadows of Huelva´s mountain range.
Iberico´s charcuterie was made, as we do it nowadays, with homemade spices. Curing hams and shoulders have been totally prepared in a natural manner. Every artisan has been contributing for decades during until the end of the 20th Century. ORO VIEJO´s modest history has been progressing in a remarkable way since 1996, when Manuel, our father and Fernando´s son, established the basis of a family business that has been making a difference and leaving a legacy. We have been preserving the essence of old times, the wisdom of our ancestors breeding pigs in our meadows, slaughtering, maintaining a high quality in our products, caring for the environment nature, and cuddling daily with efforts and work our products in our larders.
We also offer a direct sale to the public in our larder/factory placed in Higuera de la Sierra. From there we are carrying ORO VIEJO´s legacy worldwide, becoming a model nationally in the manufacturing and in the healing of Iberian pork products.
ORO VIEJO´s family Business received the 'GOLDEN Ham' award in 2017 within the celebration of the Ham Gala place in the famous Regional Fair of Iberian Ham and Pork of Aracena.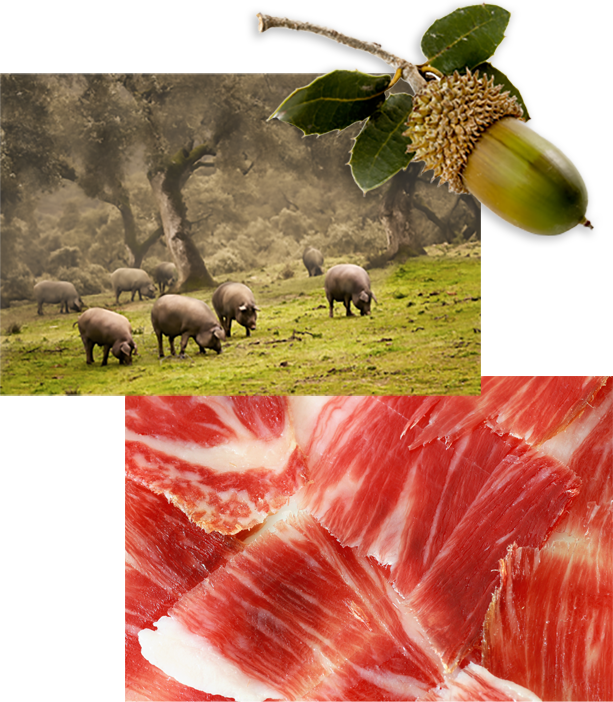 Therefore, in recent years ORO VIEJO has received different mentions and has appeared in provincial, autonomic, and even national media on either writing, digital or audiovisual press. You can also find us on internet.
Since 2018 Ramos Dominguez SL 'ORO VIEJO' is registered as a Larder in the Jabugo´s Protected Designation of Origin. It was really a quality and a recognition leap, because our larders meet the ideal conditions inside a unique microclimate to develop our products covered by the mentioned council with this remarkable quality seal.
Hams and shoulders with Jabugo's PDO are bred in larders placed in the Natural Park of Aracena and Picos de Aroche. They belonged to 100% Iberic pigs raised and fed in free-range. They reach a harmony with their whole organoleptic qualities focusing its highly aromatic because of the following characteristics:
Racial purity.
During the fattening, they are fed exclusively with acorns and natural grasses in freedom in the meadow.
Very slow curing in the unique microclimate's conditions.